Auburn Academy is a preparatory school that caters to the children of Boston's elite. It is a 9-12 school, and is known for its connections with many universities and colleges throughout New England and beyond. The school is located in the Liberty Heights suburb of Boston, Massachusetts. Auburn Academy is one of the most prestigious private schools in the country, and has a long history of educating the "leaders of tomorrow".
The school was built on the convergence of a number of ley lines; one of the most dense and powerful such convergences in North America, and it quickly caught the eye of many Boston mages for this reason. Since 1935, the Gibborim has exclusively attended Auburn Academy. As such, the school is deep in the pockets of the Council, most notably the Reidl family, who are practically Auburn "royalty"; several buildings and wings are named after members of the Reidl family, and it is the Reidls who saved the school and continue to serve as primary financiers to this day.
The grounds are very old and alive with strange energy, especially when it rains. Spirits are known to lurk on the fringes of the grounds and the convergence of ley lines is known to have strange, mystical properties that wax and wane throughout the year, being more powerful between the Winter Solstice and the Summer Solstice. Built of the edge of a beautiful lake, Auburn is home to extensive grounds and woodlands.
With generations of wizards attending the school, who knows what secrets lie buried on its prestigious grounds?
The land where Auburn Academy would eventually be built was originally sacred Native American land, due to the convergence of ley lines. The land was shared for a time between the natives and the early colonial settlers. During the Revolution, the land was officially "claimed" by the United States government and used to store ammunition. The natives tried to reclaim the land, which did not end well for them. Any survivors of this attempted coup were hung.
After the war, the estate was purchased and sold multiple times over time. It was always host to Boston's rich and affluent, but the property carried with it "stories". People wouldn't call it haunted, but occasionally, someone would see a Burning Man stumbling through the area, oblivious to the flames and crying out for his wife and child. The stories cannot be corroborated, but they persist even into the modern day.
Finally, after the property had remained unused for nearly twenty years, it was sold to Dr. Jeremiah Auburn for a pittance. Auburn dreamed of running a prestigious private school in Boston. In 1888 the original institution, known as the Auburn Boys' School, opened in the autumn. It was a strict, Catholic boarding school.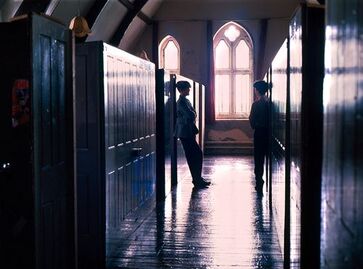 Dr. Auburn was a relative unknown in Boston's high society, though after a few years he had acquired a small reputation. His school started to do well once a few notable families started to send their boys to his school, which valued discipline, piety, and obedience. However, times changed.
By 1935, attendance was at an all time low; enrollment had dropped from its peak of about sixty-three students to only five. Fortunately, it was saved from closure by local philanthropist John Reidl, who own grandfather was an Auburn alumnus. Reidl donated more than one million dollars to the school, insuring its financial security for years to come.
Of course, nobody gives away that kind of money without some strings attached. Mr. Reidl insisted that enrollment be opened to girls as well as boys. That, in turn, meant a name change. The name Auburn School of Higher Learning was chosen, and it lasted until 1977, following a campus "party scandal". The new Headmaster at the time, Paul Patterson, was brought in to clean house. As part of his initiative for a clean start, he lobbied that the board change the school's name to simply "Auburn Academy". Patterson was a stern authoritarian who is still whispered about in the hall; there are rumors that his ghost still haunts the school, looking for slackers and rule breakers.
Since 1998, Auburn has been run by Headmaster Dr. Winston Wells, a somewhat absent-minded, grandfatherly figure beloved by the student body.
Alma Mater Edit
Hail to the Rising Raven,
Flying on the wind so high.
True in Flight,
Strong in Fight,
A bird of valor, honor, and deeds.
Here's to the school we love,
We raise a toast to thee. 
School Fight Song Edit
Ravens Fight
Ravens Fight
Put on the Black and White!
Ravens Fight
Ravens Fight
Our team will own the night!
Fear the Fighting Ravens,
Our mighty team does soar!
Fear the Flying Ravens,
When we make another score!
Throughout the Campaign
Edit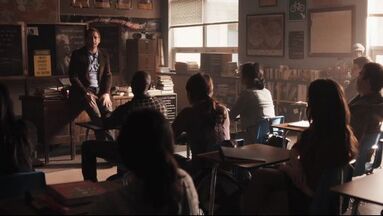 Auburn Academy serves as the high school where Cass and her friends attend and, as such, is often the focal point for a lot of social interaction, and is often where the characters can meet discreetly and talk about hunts or other supernatural topics.
It's the major social hub in Cass' life, between photography, lunch time, cheerleading, and other activities.
Features
Edit
Auburn Academy was originally only the old Auburn house, but it has expanded quite a bit; Dorothy Fleurant, who graduated in 1972, has remarked that the campus seemed so much bigger, with many more buildings, than she remembered.
The buildings on campus are arranged in a sort of rectangle, with the courtyard and the student center in the center. The main academic building is called "Auburn Hall", which was the site of the original Auburn Manor. Even the newer buildings have are made of brick and have an old, antiquated feeling about them.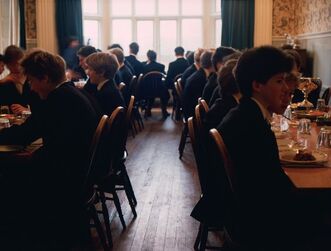 Auburn Hall Edit
The largest, and oldest, building on campus. Auburn Hall is the focal point of campus life, and the only building where everybody has at least a few classes. All student lockers are found in Auburn Hall, and all students' home rooms are located in Auburn Hall. Many of the English, Math, and Social Studies classrooms are located in this building.
Most notable when one walks through the front doors are the school's logo emblazoned on the floor and the large trophy case, which contains the various awards and achievements the school has accumulated over the years, both academic and athletic.
Abrimov Science Wing: The science classrooms, with state of the art equipment. The computer sciences classroom was traditionally located here, until the construction of the Language Center. Now, the old computer science room is mostly used for storage, and a place where students commonly slip in to have private conversations.
Administration Wing: Students go here for various student services such as paying tuition, meeting with college advisers, getting transcripts or permits, and so on. This is also where the Alumni Board Room is located, where the Staff Lounge can be found.
Dining Hall: The main dining area, where hot lunches are served, is in the Auburn Hall.
Edmund Garland Student Center Edit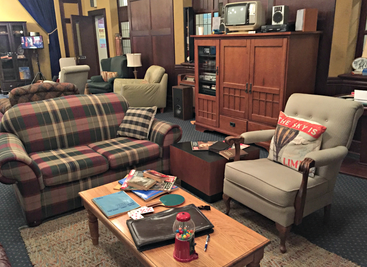 This rectangular building boasts a student lounge, a series of study rooms, and snack center. The student lounge is open from 7am until 8pm, and students are welcome to just hang out during free periods and both before and after school.
The Student Center was constructed in 1961, right over the convergence of ley lines.
Jonathan Reidl Arts Building Edit
Home of various art and pottery classes. The Auburn Gallery, showcasing the best of the best student works, are located here. The photography class used to be held in here before Professor Carroll started holding the classes in Auburn Hall. This has left an empty classroom being used for storage and the occasional heart-to-heart conversation with students who'd rather speak in private.
Landsdale Language Arts Center Edit
Named after a famous local writer, this building houses Liberal Arts, Speech, Communications, Computer Science, and Foreign Language classrooms. The Drama Department and Dance Department are located here.
Landsdale Auditorium: Where the theater department and dance department hold their shows.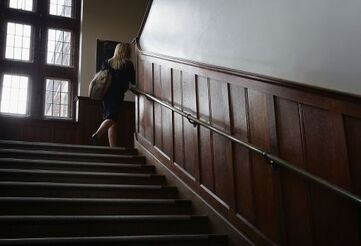 The Ravens Athletic Complex Edit
The center for most of Auburn's sports and athletics departments and activities. The lacrosse team, cheerleading team, and tennis teams play here. Track and Field meet here in the non-winter months. Also called the Raven's Nest. Holds offices, concessions, lockers, equipment storage, physical therapy, and a coed gym and weight room. Students can volunteer to work concessions during games for community service credits.
Aquatics Center: Indoor natatorium used for swim meets and recreation after school hours. Very popular in the spring.
Robert Reidl Library Edit
This new building contains three floors, including the eponymous library, in addition to study rooms, meeting rooms, extra classrooms, and a lecture hall. The building houses several private collections and also hosts many of the various Business classes.
Shickman Concert Hall Edit
Home of the various music classes, the Auburn Symphony Orchestra, and various speaking engagements. Orienation night and Student Council Public Forums are also held here.
Known Faculty & Staff
Edit
Administration
Edit
Dr. Winston Wells - Headmaster
Teaching Staff
Edit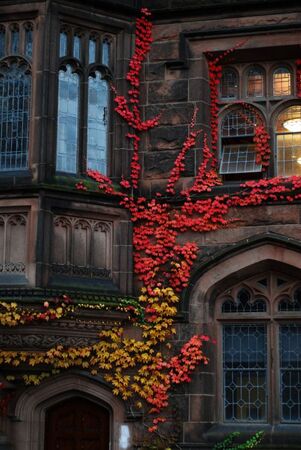 Jeff Carroll - Social Studies, Journalism, Photography; a laid-back, casual teacher who is popular with the majority of the student body. A pulitzer-prize winning journalist, he is open minded and wants his students to succeed. Friendly, handsome, and the youngest teacher at 34 years old.
Charles Cole - Art; Stuffy, proper, and opinionated. Curates a number of independent art galleries around Boston. An accomplished painter and historian in his own right.
Michelle Grant - Sciences; friendly and passionate about science and local history. She has a way of teaching that makes it easy for most students to pick up, and her patience and warm demeanor mean that students tend to be more comfortable asking her questions.
Travis Keaton - Drama, Theater; A true thespian, Mr. Keaton is an accomplished Broadway actor and Director. Seems to want the student body to think he's cooler than he probably is.
Bernadette Hoida - English, Creative Writing; Extremely intelligent, she has won a number of faculty awards and is published in major literary journals. That being said, her voice is monotone and is infamous among the student body for putting people to sleep. Total Washington Irvine and Charles Dickens fangirl.
Athletics Department
Edit
Tom Shoemaker - Lacrosse Coach and all boys' sports; a tough, no-nonsense, aggressive coach. Known for his short temper.
Jake Hoffsteder - Assistant Boys' Coach; known to be a little more personable than Shoemaker, Hoffsteder is nonetheless passionate about sports and exercise.
Michelle Shoemaker - Cheerleading Coach and all girls' sports; Tom's wife, Michelle is an accomplished cheerleader, having been a Patriots cheerleader for several years in her early 20's. Tends to leave most of the actual drills to the Senior Captain. A driven woman who encouraged "her girls" to be passionate and ruthless in pursuit of their goals.
Anne-Marie Barenchi - School Nurse; kindly and empathetic. She's only been at Auburn two or three years.
David Madsen - Head of Security; A former marine who takes his job way too seriously.
Sammy Taylor - Head Custodian; kindly janitor. People affectionately call him "Mr. T". He's been working at the school for at least thirty years.
Known Students
Edit
Seniors - 12th grade (Class of 2011)
Edit
Peter Caulf
Jessica Fine
Susan Hansen
Brad Reidl
Doug Seymoure
Karen Shepherd
Emmy Walsh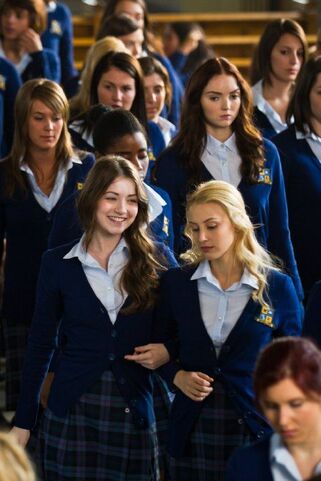 Juniors - 11th grade (Class of 2012)
Edit
Tiki Abernathy
Codina Brandterson
Todd Carlyle III
Alex Harrington
Will Humphrey
Cass Jones
Zack Kowalski
Fahad Mohammed
Marilyn Ngyuen
Oliver Roth
Kimberly Sheridan
Liddia Waldorf
Sophomores - 10th grade (Class of 2013)
Edit
----------
Freshmen - 9th grade (Class of 2014)
Edit
Jessie Humphrey
Mason Reidl
Student Council
Edit
President - Brad Reidl
Vice President - Marilyn Ngyuen
Treasurer - Fahad Mohammed
Secretary - Liddia Waldorf
Auditor - Susan Hansen
Public Relations Officer - Jessica Fine
Sergeant-at-Arms - Peter Caulf
Parliamentarian - Oliver Roth
Notable Alumni
Edit
Vera Clarke
Oswald Fleurant
Nicholas Harrington
Robert John Reidl
Franklin Roth
Isobelle Waldorf
Everett Walsh
Winston Walsh
Appearances
Edit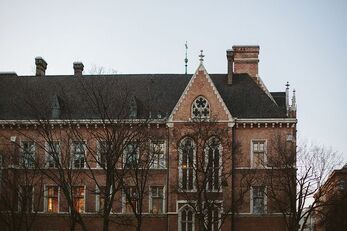 Auburn Academy is the place where the main cast attends school and, as such, it appears in the majority of episodes:
Boston Campaign Edit
Season 1 Edit
Episode 1, "Legacy" - mentioned only
Episode 2, "Music in the Mists"
Episode 3, "Grave Circumstances"
Episode 4, "The Hard Place"
Episode 5, "Friendship is Magic"
Episode 6, "Blood Sugar"
Episode 7, "Halloween"
Episode 8, "Splish Splash"
The school colors are Black & White. The school mascot are The Ravens. They are notoriously terrible, though they're doing pretty good in the 2010-2011 school year.
When students get in trouble, they get demerits. Fifteen total demerits in a semester results in a suspension and twenty in temporary expulsion, pending a hearing with the school board.
Uniforms are mandatory. The design has changed little since the 1960's.
As a "show of good faith", and as a way to pander to the Board of Education, Auburn allows students to attend on academic scholarship. There are six such scholarships offered every year; two in the arts, two in sciences, and two in business.
It it almost always cloudy; it is rarely sunny and even then, never for long.